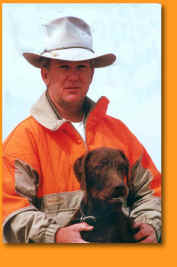 Bob Farris, Owner/Trainer
12635 Cedarwood Boise, ID 83709
(208)322-7792
Email:bobfarris@cedarwoodgundogs.com
If you would like information on the availability of future litters, please email Bob Farris at: bobfarris@cedarwoodgundogs.com. Detailed questions can best be answered by phone, however, we are sometimes quite difficult to connect with and have difficulty finding time to return calls. We have litters in the Spring and occassionaly Fall annually from only proven breeding stock; those sportsmen an women looking for that special hunting companion will find no other kennel breeding pudelpointers with the passionate dedication experienced at our kennel. The waiting period for a Cedarwood pup is usually 6-12 months. The interested individuals not willing to stay in contact with us on a monthly basis are usually dropped from our waiting list after an absence of 3 months not checking in with us. We have learned from past experience that these were not as interested as they originally thought. Since many reprutable pudelpointer kennels in North America are using one of our 8 active stud dogs, we can also assist you in sorting through the different options available for today's sportsmen at the various pudelpointer kennels. We will be glad to give you an honest recommendation at another kennel in the event we cannot delivery a pup to you in a timely manner to suit your needs.
We are now considering our spring/summer litters of puppies. Availability is questionable, however, at this point as we have a significant amout of people as carry-over from last year. We have some great litters expected this spring from some of the best pudelpointers this breed has ever seen. Check out our breeding stock and the ancestry behind each of our current breeding dogs.
We have been a very active member of The North American Pudelpointer Alliance (NAPPA) since 2002. This group of pudelpointer breeders have recently gone through a reorganization with the listed 30 members representing the breed as one of the "Elite" sources for a puppy. We recommend any and all kennels that can be found on this Alliance's website: www.pudelpointer-alliance.com Any kennel selling pudelpointers not listed on this website should be carefully viewed as that possibly from a non-hunter or show dog enthusiast's background and one not focused on producing hunting dogs; especially not hunting wild birds. It should be unproblematic to acquire a pups with 30 Elite breeders to look to knowing these are the honest/sincere group to approach.
Our kennel does not require a sales contract with our clients; what we do require are "honest" sportsmen to place our pudelpointers with !!!! We also do not take or believe in taking deposits for pups; especially before pups are even born.
Puppies are selected on the specific attributes of each individual customer's needs in their next hunting companion. Our goal is to match each individual pup with the appropriate client. You're choosing a companion of the next 15 or so years and selecting a reputable breeder is your most important part of that selection process, as its the breeder that will most likely be picking your puppy for you. All pups sold by Cedarwood Kennel are guaranteed until 12 months of age for any concerning reason. They must be returned to our kennel in sound health and a full money back guarantee will be granted
If you are looking for an honestly bred hunting companion, with proven history to back it up, give us a call !!!! We can be reached most evenings at (208)-322-7792.