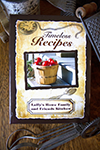 This cookbook is a compilation spanning five generations. The recipes diversify from a grass roots, basic way of preparing food for growing families transitioning, to utilizing fresh and trendy ingredients for the health-conscious diners. These 700 recipes are family favorites and proven to wow the most discerning palates. While the Rowe family will reminisce over the memorable anecdotes, they and the other readers will appreciate the ease of preparedness the ancestors and contributors have outlined. One of LaFaye's Aunts routinely gave two or three different cookbooks as wedding or housewarming gifts, and this cookbook contains many of those recipes. "Laffy's Rowe Family Cookbook" conveniently covers basic to gourmet, and will be a go-to reference for any and all occasions. The best thing we can instill in our children and grandchildren is tradition; food is one of the main avenues to bind shared family memories.

$27.00 plus $6.00 shipping (entire order)
To order a copy, fill out the form below.
---